Bengal Kittens For Sale!
Bengal Kittens & Bengal Cats Available and Future Litters
TEL. (760) 744-7886
Email: bengals4u@sbcglobal.net
The following is a list of Bengal kittens and Bengal cats that are available.
The list may not include all that we currently have available, so please contact us to see what else we might have.
INQUIRES (760)744-7886

Please Like Summermist Bengal Cats On Facebook Below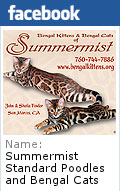 BENGAL KITTEN LITTER

PURRRICE AND SHEENA HAVE PLANNED BREEDING IN THE FUTURE
Purrrice is in the 2 photo's on the left and Sheena pictured pictured in 2 photos on the right.
(Inquires invited by phone welcomed (760) 744-7886)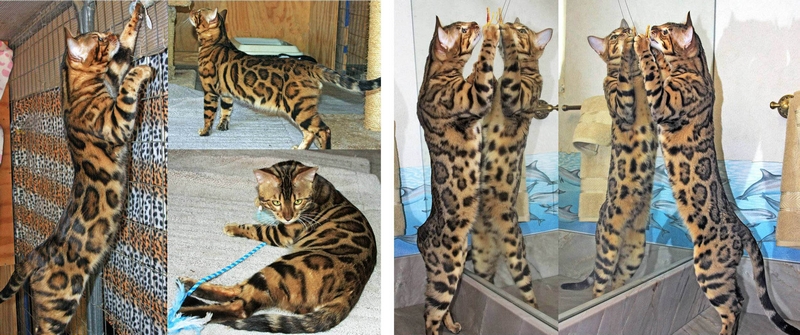 ------------------------------------------
Bengal Kitten and Litters Information Below

(Inquires invited by phone (760) 744-7886)
• Inquiries Invited - Please Call (760) 744-7886 • Inquiries Invited - Please Call (760) 744-7886 • Inquiries Invited - Please Call (760) 744-7886 • Inquiries Invited - Please Call (760) 744-7886
No Bengal Kittens available at this time
For adoption fee and information call Sheila (760) 744-7886
------------------------------------------
Deposits Are Nonrefundable.
------------------------------------------
RETIRED BENGAL CATS OCCASIONALLY AVAILABLE
Sometimes we have retired cats available that are not listed or pictured.
Please call or e-mail if you are looking for a retired Bengal cat that might be available.
------------------------------------------
Any and all sales are by written sales agreements only
SummermistTM Bengal Kittens and Bengal Cats, Sheila and John Fowler (hereinafter referred to as SummermistTM) have the right to refuse to sell any Bengal cat or Bengal kitten at any time and during the negotiation. Until a written Sales Agreement has been signed by all interested parties, any Bengal cat or Bengal kitten is the sole property of SummermistTM in compliance with certification of SummermistTM by The International Cat Association (TICA) Voluntary Code of Ethics.  DEPOSITS ARE NON-REFUNDABLE. 
Deposits reserve a place on our waiting list and are applied to the sale price at the time the written Sales Agreement is signed by the Buyer/Adoptee.  If the reserved Bengal kitten becomes unavailable for sale due to no fault of SummermistTM, your deposit will be applied toward another Bengal kitten which may be in the same or a different SummermistTM bred litter.  In the event the Bengal Kitten or Bengal Cat under consideration by a Buyer is chosen by SummermistTM as pick-of-litter or otherwise withdrawn from sale, SummermistTM will refund the Buyer's deposit at the sole discretion of SummermistTM.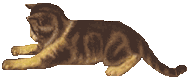 All Materials And Photo's Are The Property Of © Summermist Bengals